Professional Auto Detail vs Automatic Car Wash, it's an important question if you value your vehicle. While automatic car washes have become very popular here in the Orlando area, probably because of their convenience, they do more harm to your car than good.
What You Don't Know About Automatic Car Washes That Damages Your Vehicle 
Recycled Water
Automatic car washes claim to be environmentally friendly because they recycle the water they use. Which means all the dirt and grit from all the vehicles before yours is scratching your automobile as it is being washed.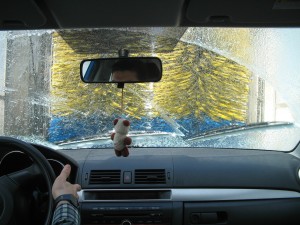 Abrasive Cleaning Agents 
Automatic car washes are notorious for using cheap and harsh chemicals to maximize profits. Unfortunately, these abrasive chemicals may give your car a clean look, but they are very acidic, which gradually erode the paint and protective wax on your car. This is especially true in touches car washes. 
Automatic car washes that use brushes to remove dirt from the vehicle, may not seem to aggressive, they are filled with dirt that scratch your vehicle and leave it looking dull and lifeless. 
Not All The Dirt Is Removed
You would be surprised just how little dirt is removed in automatic car washes. They definitely don't address any trouble areas or give attention to areas that really need it. It's no surprise your car looks dingy in just a couple of days.
Air And Hand Drying Options
Air drying leaves streaks and spots that linger and requires intensive polishing if not immediately cleaned. Hand drying would be okay, except they same town is typically used to dry several vehicles. Which means as your car is being dried, it is also being scratched.
Choose Rite Now Mobile Detailing
The team at Rite Now Mobile Detailing are trained to the highest caliber. Our detailing ensures your vehicle will get the best treatment. Detailing goes well beyond just washing your car. With every area of your vehicle meticulously cleaned, our goal is to have your vehicle looking like new. Restoring both the interior and exterior of your car.
Conveniently located at 2615 Maguire Rd, Ocoee, FL 34761and 517 Main Street, Windermere, FL 34786