Central Florida's Original Mobile Detailing Company
We strive to set the highest standards in professional detailing while keeping our prices fair so that you get the best value for your money!
GUARANTEED SATISFACTION
From one car to the biggest fleet, we handle it all. We believe that you already know that maintenance of your vehicle will protect your investment. We are here to make you vehicle look and feel like new.
DARK VEHICLE SPECIALISTS
We specialize in paint correction on black and dark colored vehicles to remove scratches, swirl marks, and water stains that will make your vehicle look better than showroom quality.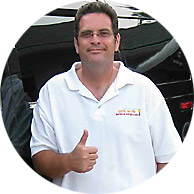 TRUST AND HONESTY
"My team and I have worked hard to build a tremendous amount of trust with our clientele through the years based upon honest business practices.
We are excited to build new relationships that stand the test of time. Become a part of our RiteNow Mobile Detailing family.
Thanks for visiting us online."
Ira Levitt, Owner
Ocoee
2615 Maguire Road
Ocoee, FL 34671
Windermere
517 Main Street
Windermere, FL 34786