When you are thinking about have your car's windows tinted, ceramics may not be the first thing that comes to mind. But advanced ceramics have become the forefront of cutting edge technology, especially when it comes to window film. The same properties that allow ceramics to withstand extreme temperatures and durability are applied to window tint. To create a film that not only looks amazing, but will add safety and value.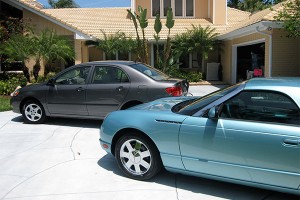 The benefits of LLumar ceramic window tint include:
High heat resistance helps keep your car cooler
A range of colors from dark to clear delivers what you need and want
Outstanding heat rejection
Advanced technology that won't interfere with electronics
Won't interfere with your keyless entry, radar detector, mobile phone, and other radio frequency technology you rely on in your vehicle
More than 99% UV ray protection
Scratch-resistant coating helps protect against damage.
As we approach National Window Film Day, April 30, 2019, we hope we have brought you some awareness about the numerous benefits LLumar window film can have on your vehicle.
Besides protecting against the sun's blinding glare, which we all know can make driving very difficult here in Central Florida. LLumar Window film advanced technology blocks more than 99% of the sun's harmful UV rays. You may have thought the sun couldn't cause damage to your skin when you are sitting behind the glass windows of your car, but think again. This is why the Skin Cancer Foundation has recommended window tint be a part of everyone's comprehensive skin care regimen. 
Window tint can also help prevent your car being broken into or stolen. With vehicle break-ins soaring 165 percent in Orange County alone and Florida ranking 3rd highest state in the country for auto theft, you need to do everything you can to prevent it from happening to you!
Contact Rite Now Mobile Detailing Today for our Spring Auto Detailing and Window Tint Specials!