We are all afraid of something, being afraid of bad window tint on your car is real. I am proud of my car and don't want it to have unsightly bubbles, creases, that funny faded purple, or something that doesn't hold up to Central Florida's environment.
The fact is, if you have your vehicle's window's tinted at a reputable establishment, whose technicians are experienced, and use only high quality film, such as Rite Now Mobile Detailing, you should enjoy all the benefits of window tint.
Don't worry, there is hope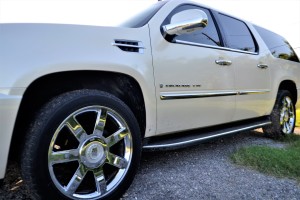 Don't let the fear of bad window tint leave you out in the heat this summer. Who hasn't left their car in the sun a couple of hours and then could barely get into it because it was so hot. It can also age and fade the inside of your vehicle and crack your dashboard.
Not only does tinting your car windows keep the interior cool, it means you won't have to fill up the gas tank as often! The harder the air conditioning has to work, cooling down your car and keep it comfortable until you get to your destination, the worse your gas mileage will be.
Window tint also protects your skin and eyes. The bright sun and lights from cars at night, can make it difficult to drive. Window tinting can reduce the glare and make it easier to see. It can also reduce up to 99 percent of UV rays, protecting you and your family from skin cancer.
At Rite Now Mobile Detailing, we use quality window tint, engineered to deliver a higher standard of performance. "LLumar window tint is known for its quality, color stability and durable scratch-resistant coating.It is also known for its non-metalized ceramic window tints that maximize heat and UV rejection without interfering with your keyless entry, radar detector, mobile phone, and other radio frequency technology you rely on in your vehicle. We stand behind our products with a lifetime limited manufacturer's warranty." LLumar Window Tint.
Rite Now Mobile Detailing offers quality and convenient window tinting and auto detailing throughout Orlando, including Ocoee and Windermere. We are family owned and operated. With over 29 years of experience, we strive to set the highest standards in professional detailing and window tinting while being affordable, so you get the best value for your money!
Contact Rite Now Mobile Detailing for an appointment today.