More than just transportation, your vehicle an investment that directly reflects you and your family. And why you may think spraying it down with a hose or driving it through an automatic car wash, is just fine, it may be doing more harm than good! Properly washing and detailing a vehicle takes skill, experience, the right equipment, and materials. 
Surprising Facts About Having Your Car Washed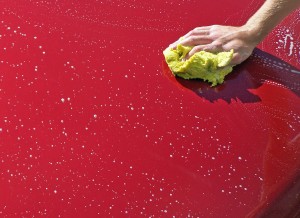 Did you know it is important to have your car dried with a microfiber wash cloth after it is washed. If not, the chemicals and water leave stains on the paint that are very difficult to remove. The microfiber ensures your car won't be scratched. 
The right materials are equally important. For instance, inexpensive soaps or Windex (which many drive through car washes are known for using) can cause significant and permanent damage to the vehicle' s paint. The right cleaning supplies, soaps and waxes are vital to retain the value of any car. 
Our intense heat and rain only accelerates problems. Contaminants and pollutants are everywhere, in rainwater, the acid left from bugs, leaves, and road debris, the high temperatures increases the probability of permanent damage. 
The sun's ultraviolet rays also speeds up the aging process on your vehicle. Fading paint and glossy finish. 
A professional auto detailing is an important part of preventative maintenance. Just like changing the oil, it prolongs the life of your car and means a higher resale value 
Protect the environment, Rite Now Mobile Detailing uses sophisticated equipment to conserve water and eco-friendly soaps to reduce our carbon footprint. 
There is nothing like that new car sparkle, but after a while it slowly starts to disappear. Auto detailing restore that original shine. The experienced detailers will check for scratches, dirt, odors, and about a couple of dozen other things.
Rite Now Mobile Detailing takes pride in all our work, we guaranteed you will love the way your vehicle looks and feels!
Located throughout Orlando, including Ocoee and Windermere, Rite Now Mobile Detailing is family owned and operated. With over 29 years of experience, we strive to set the highest standards in professional detailing and window tinting while being affordable, so you get the best value for your money!