Let face it, we love our cars. We use them everyday for work, taking the kids school, taking them to all their activities, going shopping, and even vacations. We vow to keep it clean, so we drive through a quick car wash and think that's it. But unfortunately, about 99% of the time these types of car washes are not good for your car. They also don't do anything to remove the bacteria and germs in the interior of your vehicle.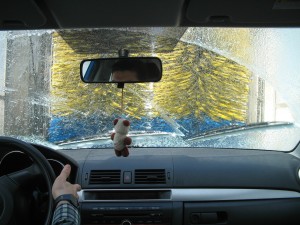 Those big brushes leave cars with damaged paint, scratches, and swirls. These problems occur because the brushes are not cleaned, the dirt that was on the previous car is now on yours.
For example, if the car in front of yours just came back from the beach or hadn't been washed in a while and a lot of dirt built up, all that sand and grim is left on those brushes now washing your car and scratching your paint! If that wasn't enough, if the vehicles are dried by hand, those towels are also just as dirty, combined with the residue and cross contamination. 
Drive through car washes are in the businesses of getting as many cars in and out as possible, not efficiency. 
The paint on every vehicle deteriorates over time, proper maintenance is essential to keep it looking its best. If not, your car is at risk for oxidizing, fading and losing its luster.
Professional auto detailing restores your cars beauty inside and out. This also includes the interior of your vehicle. Oils and dirt take a toll on your vehicle. attaching themselves to every surface, steering wheels, doors, fabrics, doors, and headliner.
The feeling of driving a clean vehicle is just amazing!
The team at Rite Now Mobile Detailing are trained to the highest caliber. Our detailing ensures your vehicle will get the best treatment. Detailing goes well beyond just washing your car. With every area of your vehicle meticulously cleaned, our goal is to have your vehicle looking like new. Restoring both the interior and exterior of your car.