Your car is an important asset, having it professionally detailed is protecting your investment. Unfortunately, the traditional drive through car wash can do more harm than good, as well as poor detailing.
Choosing the right Detailer for your vehicle with the best skills, tools, and products to keep your investment looking its best!
Location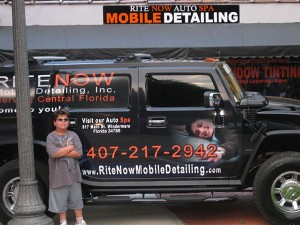 You want to make sure the detailer you choose to have a professional location and a website. Those who operate out of a tent on the side of the road or garage, typically haven't made the investment in tools and time in learning the latest techniques. The products used to detail your vehicle makes a huge difference. Giving your prized possession over to someone who doesn't know what they are doing is a recipe for disaster! 
Time
It takes time to do a full detail on a vehicle, maybe even more if the car is really dirty. A quality detail takes time, even hours. Something you don't get in a 45 minute car wash. 
Products and Tools 
Professionals should never leave water spots or swirl marks. It should look as if the vehicle just drove off the car lot. 
What Makes Rite Now Mobile Detailing a Step Above the Rest
Rite Now Mobile Detailing goes beyond just the painted surface. Safe and non-abrasive products are used to shine and polish the chrome work on both the rear and front bumpers. The wheel rims with intricate designs will have a showroom new sparkle after they are expertly cleaned. The joints between panels, crevices and grooves, that you may never really noticed will be thoroughly cleaned.
It is important to keep the interior of your car looking its best to retain its value. Owners can expect every crevice of the interior to be spotless. From the crumbs between cushions, individual knobs, the leather and vinyl cleaned and conditioned, steam clean all the carpet and upholstery, clean headliner and visor. With the proper tools and techniques your vehicle will have that new car feel.
At Rite Now Mobile Detailing we take pride in being an 'Auto Detailer' and pay close attention to every detail! Contact us today for an appointment with one of our convenient locations in Ocoee or Windermere,