Car burglaries are on the rise in Orlando. These thieves aren't stealing the entire car, just breaking the window and stealing your valuables. Then you're stuck with not only the repair cost, but also replacing what was stolen.  Car owner need to be proactive. To protect your vehicle, you need to stay ahead of the criminals.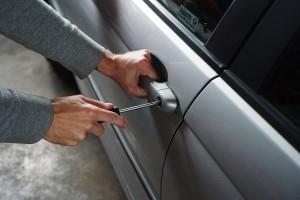 'Smash and Grab' car break ins have become one of the most common thefts in the U.S.. According to the Orlando Sentinel, "Car break-ins soared 165 percent in Orange County's tourist corridor."
The fact is, criminals are looking into vehicles and if they see something worth taking they break the window and help themselves. Which is why, it is always a good idea to conceal or hide any valuables you may have in the car.  But what about things you can't hide like the stereo equipment or things you accidentally forget and leave in the car?
Studies Show, Vehicles With Window Tint Are A Less Likely Target For Car Burglaries
First, because window tint makes it harder to see what is inside your car, potential thieves would have to spend more time trying to look inside, this makes them more likely to get caught. They aren't going to break into a vehicle unless they know there is something to steal.
Second, if they can't see what is inside your car because of the window tint, such as the laptop you tried to conceal in the back seat or the new car stereo you just put in, they are going to move on to an easier target.
"In addition to cooling your car and making it more appealing, a window tint can obscure the view of your car's interior and thereby, protect your car from thieves. If a thief can't see inside your car to determine if there is anything of value, they will move onto the another vehicle instead." Your Mechanic 'How to Prevent Having Your Car Broken Into'.
At Rite Now Mobile Detailing we use top quality window tint by LLumar, not only will it make your car look great, it is durable, able to withstand our environment, and last for years. Best of all, we are affordable!
Don't Miss Out on Rite Now Mobile Detailing Special
Receive a Free exterior car wash with every LLumar CTX ceramic window film purchase. Contact us today for more information or stop by our Ocoee or Windermere shop.