You've thought about having your vehicle professionally detailed, but wondered if it is worth it? You could just run your car through the local car wash, every now and then, but daily life takes a toll. Especially if you have children, pets, or live an active lifestyle. 
What is auto detailing?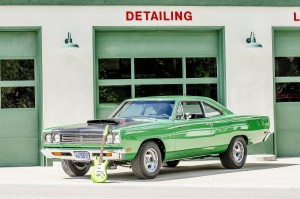 The purpose of having your vehicle professionally detailed is to make your car look as new as possible, inside and out. This means a professionally trained technician will use specialized equipment and cleaning agents to bring back that new car feel. It also gets rid of all the dangerous bacteria and germs. 
Business Insider explains auto detailing, "That just means in addition to a thorough exterior wash-and-wax, a professional detailer or full-service car wash will get down and dirty with the interior, extracting as much filth as possible. You'll be shocked at how new your old car looks. And in some cases, a mobile detailer will come to you, so you don't have to leave home!"
Business Insider reveals two reasons why you should have your vehicle professionally detailed.
Your vehicle isn't gross and is, therefore, a more pleasant place to spend time.
You don't have to be a neat-freak to be depressed if your car slips over the edge into a Superfund site. Months of spilled coffee, scattered Doritos, and the simple churn of stuff will do it.
It maintains the resale value.
A sharp interior helps you get top-dollar for a trade-in or private sale, no doubt about it. And in an era when everybody shops based on internet photos, the cleaner the better.
If you're wondering if you should have your vehicle professionally detailed, the answer is yes!
At Rite Now Mobile Detailing, we strive to set the highest standards in professional detailing while keeping our prices fair so that you get the best value for your money!
Contact Rite Now Mobile Detailing for more information, or stop by our Ocoee or Windermere locations.