Doctors across Central Florida are advising people to sanitize their vehicle in the mist of the COVID-19 pandemic. While your busy keeping surfaces in your home clean, don't forget your car.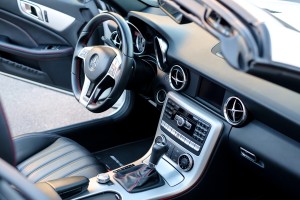 It is more important than ever to make sure your vehicle is sanitized properly. Having the right disinfectants and tools is important to keep you and your family healthy, while taking care of your car. 
For the best results you need to know where to clean and the right chemicals used to kill COVID-19 and other bacteria and pathogens. 
Frequently touched surfaces, such as the door handle and steering wheel, should be cleaned often. But what about other surfaces, such as the seat belt, seat, console, and even the floorboard. 
"A study done by an Expedia car rental company found steering wheels to be four times more germy than a public toilet seat, and six times more germ-infested than your cell phone (which we tend to carry into the bathroom). Cup holders came next, followed by seat belts, the inside door handle, gear shift and audio volume knob," CNN Travel.
"The average vehicle has approximately 283 different types of bacteria in every square centimeter, according to a study from the Aston University in Birmingham. The study was led by Anthony Hilton, the university's director of Biology and Biomedical Science," according to an article in Health 24 Live a Great Life. "The gear stick was said to be home to approximately 356 different germs, while your boot, where you normally place all your groceries, contains about 850 bacteria."
The carpet is a whole other story. Where ever your shoes have been is in your vehicle's carpet. It happens, no matter what you do to avoid it. From mud when it rains to contaminants, they build up in your carpet, and they don't come out with just vacuuming. 
Rite Now Mobile Detailing takes your car to the next level.  Stop by one of our convenient locations in Ocoee or Windermere or contact us for an appointment.