Customers come to us every day, asking if our professional vehicle detailers at Rite Now Mobile Detailing can remove stains from their carpeting or upholstery. The fact is, there are a few factors that go into the stain removal process.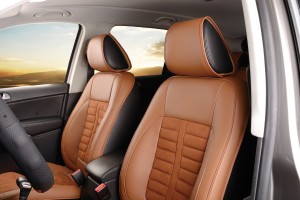 One factor is the type of car and what the seats are made from. Typically Hyundai Elantras, while great cars, have seats that are very difficult to keep clean. First, we vacuum the area, then we use upholstery shampoo with a low foam and a high pH, which helps break down embedded grime, grease, and dirt. 
We allow it to sit and do its work, then use a special brush which is able to get the shampoo deep into the fibers without damaging the upholstery or make the fabric stiff. The steam brush and heat extraction comes next, this brings the dirt and grime to the surface. This allows to extract the stain. 
Unfortunately, with our heat and humidity, it doesn't take long for mold to grow. According to FEMA, "Mold growths, or colonies, can start to grow on a damp surface within 24 to 48 hours. They reproduce by spores – tiny, lightweight "seeds"- that travel through the air. Molds digest organic material, eventually destroying the material they grow on, and then spread to destroy adjacent organic material. In addition to the damage molds can cause, they can also cause mild to severe health problems."
Mold can be difficult to see, especially if your vehicle has a dark interior. It is necessary to use the proper cleaning agent, to safely remove the mold and sanitize the location. 
Does your vehicle need a little extra attention?
Rite Now Mobile Detailing has the solution! Everyone spills something in their car, it is unavoidable. We pride ourselves with our expertise in auto detailing, You have worked hard to obtain your acquisitions…let us work hard to maintain them. Many more options available and our work is guaranteed 100%.
Protect your investment by making an appointment with Rite Now Mobile Detailing.  We are conveniently located in Windermere and Ocoee, just off of SR 408 and SR 429.