You've just spent a small fortune on your new vehicle. Whether it is a luxury SUV, car, truck, or a fast sports car, you spent countless hours doing research, and now you're finally driving it around town. You love your new car and you're proud to drive it, you vow to keep it in perfect pristine condition.
But How?
The fact is, even a brand new car has countless scratches hiding in the paint, the dulling of the exterior finish has already begun. It is unavoidable, it starts when the vehicle leaves the factory.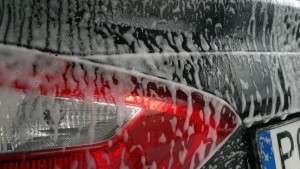 Even new vehicles need to be properly prepped and polished. High end vehicles with premium paint packages are not immune to Central Florida harsh environment cause micro scratches and lifeless paint.
To remove or improve these scratches, swirl marks, and paint contaminants, a correction or restoration treatment is necessary to bring back that vibrant glossy look to the vehicle. For the ultimate protection this is followed up with an application of high quality sealants. Eliminating spider web scratches caused by both the environment, maintenance techniques, and those drive through car washes.
Don't forget to take advantage of Rite Now Mobile Detailing's Fall Special, $20 off any 4 or 2 door tint job or full detail in the shop only.
What about protecting the interior of the vehicle?
Having the windows tinted, not only protects against the sun's harmful UV rays, it enhances the appearance and protects the interior of your vehicle. It stops the sun from cracking your dashboard, damaging your leather seats, and fading plastic interiors. Your car is a big investment, protecting it and keeping its value is vital.
Your vehicle is practically an extension of your family. Driving on Orlando's highways and street, combined with the harmful environmental elements, puts is through quite a beating.
Protect your investment by making an appointment with Rite Now Mobile Detailing.  We are conveniently located in Windermere and Ocoee, just off of SR 408 and SR 429.