We've all gotten into our car, sat down, put our hands on a stick steering wheel, look down at filthy cup holders, with who knows what is inside them, the floor mats have more than just a few leaves and dirt, and you can't remember the last time the windows were cleaned. But who has time to really clean the car?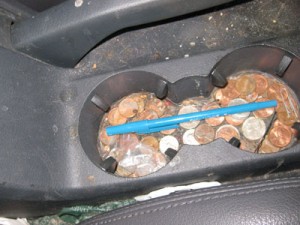 According to the latest research, the average steering wheel has over 700 different kinds of bacteria per square inch! While a public toilet seat only has 80 types of bacteria. They also found 1,000 types of bacteria per square inch in a vehicle's trunk.  With the most common causing food poisoning, bacillus cereus. Just imagine, sitting in a petri dish full of bacteria and germs every time you get in your car. Just think about how fast they are multiplying in this heat! 
Germs lingering in your car, gear shift, lock and window buttons, radio dial, seat belt, and all those touchable surfaces, can be the cause of the recurring illness in your family. 
Sure, you wipe down the interior of your car when you can, maybe even dust, vacuum, and use a disinfectant. But is that really getting rid of the germs, bacteria, and dirt?
According to a recent study by GAP Enviromicrobial Services, a vehicle consistently has 17000 times more bacteria than a home and the average cup holder has 228% more bacteria than a toilet seat!!!
While a quick while vacuuming may reduce some of the crumbs, a professional auto detail takes this to the extreme! 
Professionals agree, the best way to remove all those germs, bacteria, dust, mold, and viruses, is to take it to an experienced auto detailer with the right equipment and cleaning products to have it thoroughly cleaned.
Interested in having your car detailed, but not sure how much it will cost? Don't worry, at Rite Now Mobile Detailing, it's not as expensive as you may think and you are sure to be impressed!
Your vehicle is practically an extension of your family. Protect your investment by making an appointment with Rite Now Mobile Detailing. We are conveniently located in Windermere and Ocoee, just off of SR 408 and SR 429.